Panel Beater (Dent Pullers)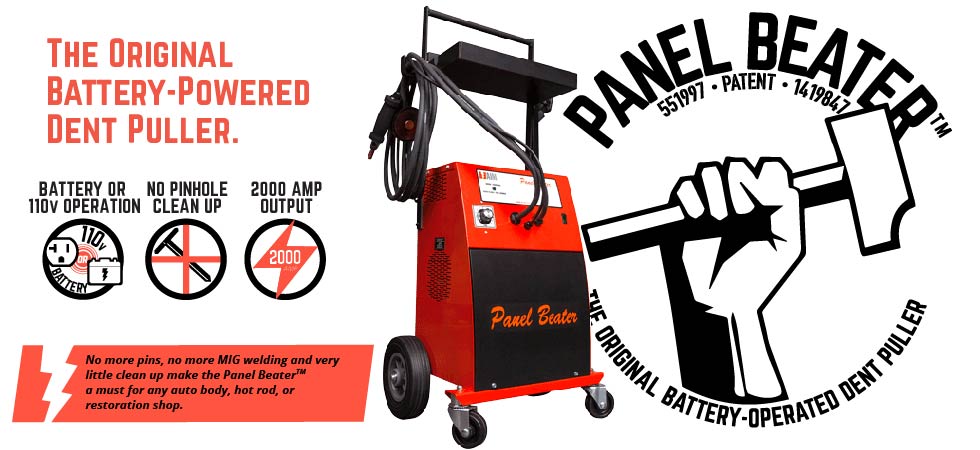 The Panel Beater is the original and only portable battery-powered dent puller used in the automotive repair industry. No more pins, no more MIG welding and very little clean up make the Panel BeaterTM a must for any auto body, hot rod, or restoration shop.
FAST: Repair damaged areas in a fraction of the time of traditional methods.
VERSATILE: Stretch or shrink metal.
SAFE: Unlike AC powered pullers, the Panel Beater is sensitive to the OEM protective coatings.
PRECISE: Clean pinpoint repairs.
EFFECTIVE: Return on Investment in weeks not years.
PORTABLE: Battery powered portability.
TECHNICAL SPECIFICATIONS:
| | | | | | | | |
| --- | --- | --- | --- | --- | --- | --- | --- |
| Maximum Amperage: | Up to 2000 amps. | | Ground Magnet: | Easy to use magnetic ground cable mounted on 10 feet of cable. | | Cabinet Construction: | Heavy Duty 12 & 16 Gauge Steel |
| Voltage: | 14v max | | Battery Condition Monitoring: | Battery Status LED Indicator Light | | Cabinet Finish: | Durable & Visible Bright Orange & Black Powder Coat. |
| Weld Time Control: | Adjustable Automatic Timer. | | Duty Cycle: | Operates all day on a full charge. | | Wheels: | Semi-pneumatic w/Integrated bearings, solid rubber casters. |
| Operating Mechanism: | Simple push button operation. | | Dent Pulling Electrodes: : | Serviceable & Replaceable. | | Weight: | Approx. 140 lbs. w/battery (shipping weight less than 200 lbs). |
| Operating Power Source: | DC—Commercial Grade Group 31 AGM. | | Dent Pulling Tool: | Versatile pry bar (standard). | | Warranty: | 1-Year/ 2-year Battery Warranty from Battery Manufacturer. |
| Charging System: | Integrated 10 amp Charging Unit (110v Source). | | Metal Shrinking Capabilities: | Yes with integrated shrink tip (standard). | | OEM Performance: | Used IN OEM factories in US & Canada |
| Control Handle Construction: | Durable Aluminum with comfortable foam grip. | | Pin/Stud Welding: | Yes via the integrated shrink tip. | | Manufacturing Location: | Made in the U.S.A. |
| Control Handle Cable: | 10-foot lead of 1/0 size cable. | | Wave Wire Welding: | Yes with optional & replaceable wave wire welding tip. | | | |